Buying the dips has led to quick profits, because central banks stuck with ultralow rates. This time may be different.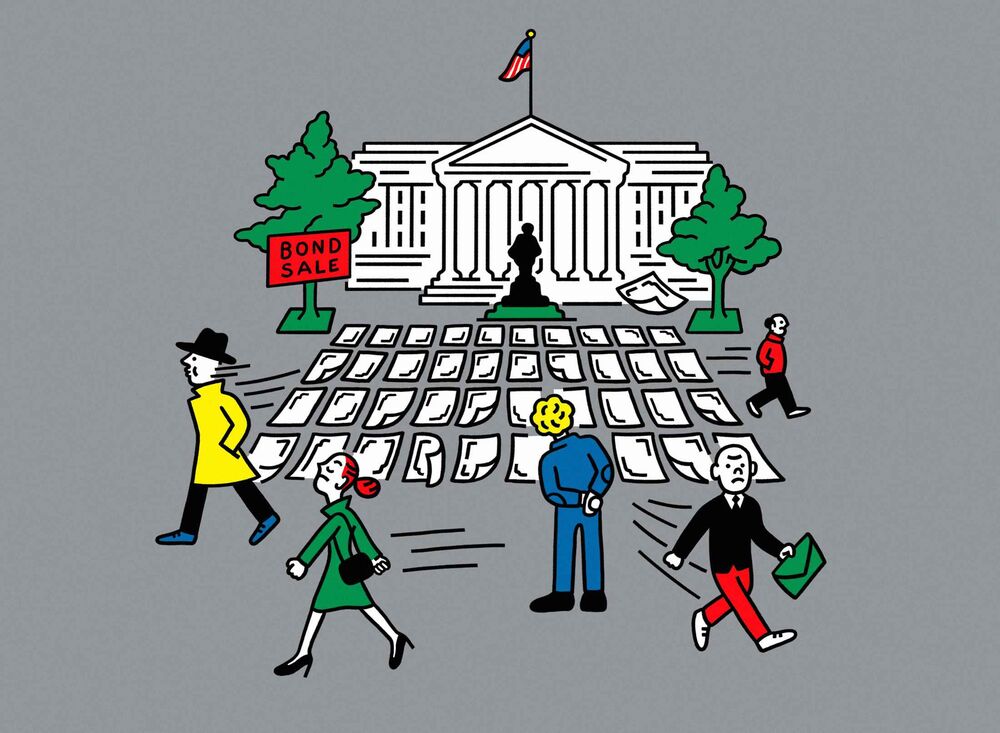 A little more than a week into the New Year, billionaire bond guru Bill Gross proclaimed the start of a bond bear market, after an extraordinary bullish run spanning more than three decades. Two weeks later, another billionaire, Ray Dalio of hedge fund firm Bridgewater Associates LP, piled on with a forecast of the worst bear market since the early 1980s.
As yields on U.S. Treasuries soared to levels unseen since 2014, Gross asked the question on many investors' minds: Who would buy America's debt right now? After all, the government deficit is soaring because of massive tax cuts, and the Federal Reserve is trimming its almost $4.4 trillion portfolio, which contains billions of dollars' worth of bonds acquired in an effort to prop up the economy in the wake of the fiscal crisis.
Yet many investors in the world's biggest bond market are smiling. Traders were bored out of their minds for much of 2017, when Treasury yields fluctuated within the tightest range in a half-century. Long-term investors such as pension funds and insurance companies are also giddy at the prospect of a selloff in bonds that would push rates back up to the levels of yesteryear. During the years in which the Fed held interest rates near zero, safety-seeking long-term investors were forced to buy riskier assets to meet their return targets.
"We needed this," says Michael Franzese, head of fixed-income trading at MCAP LLC, a broker-dealer. "This market is not going to go up forever, and rates aren't going to stay stable forever." Franzese says the big question everyone is asking themselves is whether this is a blip or there's something bigger at work: "A lot of people are sitting on cash and trying to decide what to do."
Since the 2008 financial crisis, buying when bond prices dipped usually led to quick profits, because central banks around the world stuck with ultralow rate regimes. Now there's growing angst that this dip might be different. Those forces investors have counted on to continue keeping yields lower might not be so reliable anymore.
The Fed, the largest single holder of U.S. government debt, is allowing its debt holdings to slowly roll off. That means billions of dollars of demand is disappearing just as the Treasury plans bigger bond auctions, for the first time since 2009, to finance a growing deficit. The size of the Treasuries market is already $14.5 trillion (77 percent of gross domestic product), from $5.8 trillion at the end of 2008. What if America's largest foreign bond customers, China and Japan, have had their fill? Indeed, they stopped increasing their holdings years ago.
Speaking at a fixed-income conference in January, Bob Michele, head of global fixed income, currency, and commodities at JPMorgan Asset Management Inc., said investors could "see a significant bear market."
No one really knows what a bond bear market would look like, largely because yields have been on a downtrend in the U.S. for more than 30 years. There have been hiccups. A mass exodus from bond mutual funds like the one Michele envisions happened in 2013, in an episode dubbed "the taper tantrum." Investors bailed out when Fed officials began talking about slowing their bond purchases. The 10-year yield hit 3 percent before falling back again. Still, that's a long way from the double-digit interest rates of the early 1980s.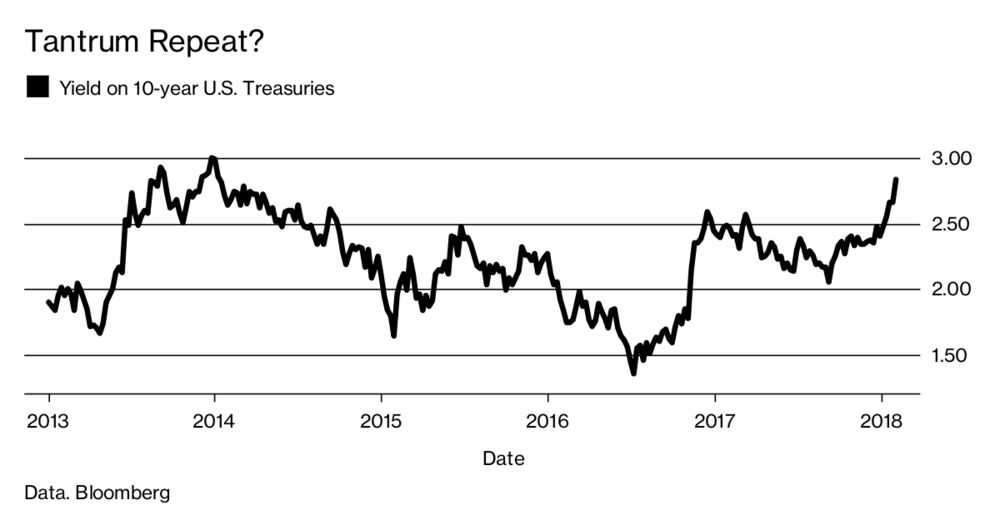 Nothing points to bonds suffering a calamity such as the stock market experienced after Lehman Brothers' 2008 collapse. (In a six-month span, the S&P 500 fell 45 percent.) Gross himself says the bond bear market will be a "mild" one. In the past 40 years, you can count on one hand the number of times (1994, 1999, 2009, and 2013) that Treasuries posted a negative annual total return (price change plus interest payments).
The tricky thing about predicting a stampede out of bonds is that fixed income is, by definition, different from other asset classes. Treasuries are the closest thing out there to a risk-free asset because there's an assumption that the U.S. will never default on its obligations. Investors who ignore market fluctuations and hold their bonds to maturity will always get their money back, plus they collect interest along the way. An aging population means an expanding pool of investors seeking the stability of bonds. The number of U.S. residents aged 65 and older has climbed 40 percent since 2000, to 49.2 million in 2016, according to the Census Bureau.
Longtime bond bulls, such as Lacy Hunt at Hoisington Investment Management and Steven Major at HSBC Holdings Plc, also dismiss the risk of a big rise in interest rates that would send prices plunging. Such forces as globalization and technological advances will work to keep prices down, and wages show no signs of spiking, so the risk of sustained inflation is small. Moreover, the government has an incentive to keep rates moderate: Higher rates vastly increase the cost of interest payments on its enormous debt load. "There will be individual days and weeks, and maybe longer stretches of time when long rates go up, but in this environment, I don't believe they can stay up," says Hunt, who's been bullish on Treasuries since 1990.
Susan Estes, who began working in financial markets in 1981 as a runner at the Chicago Board of Trade, also has a hard time envisioning a prolonged stretch of bond market losses. What's not talked about, says the chief executive officer of OpenDoor Securities LLC, which operates a Treasuries trading platform, is just how critical Treasuries are to the underpinnings of the entire financial system. "It's not even just the fact that the Treasury market is $14 trillion in size—it's $14 trillion in size times five—or the number of other securities linked to Treasuries." That includes U.S. mortgages and dollar bonds in developing nations. If bonds truly went haywire, the tremors would be felt around the world.
That sounds scary. But it's based upon the prospect of investors fleeing Treasuries—when in most crises, they flock to Treasuries as a safe haven. That's exactly what they did on Monday, when stocks swooned.
Marilyn Cohen, CEO of Envision Capital Management Inc., is telling her clients—mostly individual investors—to stay the course. With fears that after years of shattering records, equity markets are poised for a large correction that retirees won't have time to recover from, baby boomers are receptive to that message. Pension fund managers are also shifting money to fixed-income assets to stay balanced after the runup in stocks.
"We've had a hell of a two years in the equity markets," says Hugh Johnson, chief investment officer of Hugh Johnson Advisors LLC, who's been in financial markets for more than 40 years. "Investors are sending you a message: 'We want to own Treasuries, and we're not afraid.'"