Inflation is the primary long-term driver of interest rates.
President-elect Trump's proposed policies seem to point toward higher future inflation and interest rates.
I reiterate my bond segment recommendations, and those to avoid.
Global interest rates began to rebound in the second half of 2016, and bond prices, which are inverse to yields, began to decline. Then, U.S. rates jumped sharply on November 9th when Donald Trump was called the winner of the U.S. presidential election, which sent bonds plummeting. Today, I will describe market expectations that I think triggered the latest selloff.
We can't speak about bonds without first mentioning the Fed. Unlike other global central banks, the Fed is no longer buying bonds (other than reinvesting interest). It raised the short-term rate that it directly controls (called the fed funds target rate) by 0.25% in December 2015, and is expected to do so again this December. These two components make up the long, drawn-out process of normalizing Fed policy. Normalizing means that the Fed is gradually stepping away from suppressing rates, and is "handing it off" back to market forces.
I described in my October 12th article the market forces that increasingly drive interest rates – inflation and currency markets. In my October 30th article, I described one additional force – the Chinese yuan now being used as reserve currency. These three market forces began to drive Treasury yields up (bond prices down) since July – for example, total CPI inflation rose from 1.1% to 1.5% in September.
This Weeks Best High Yielding Bond Reviews

Historically, inflation was the number one driver of longer-term interest rates. As you can see below, Treasury yields continued to decline since inflation began to decline in the early 1980s. Treasuries are supposed to compensate for inflation, plus provide some real income. For example, 5-year Treasury yield rarely dropped below core CPI inflation – until the Fed began its QE program. However, QE kept Treasury yields lower (bond prices higher) than where they would be based on market forces.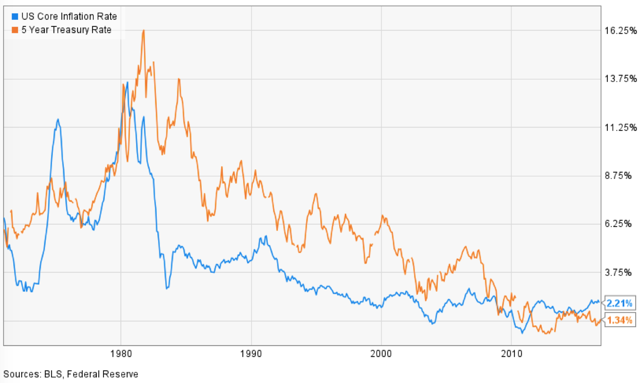 With that as our context, let us look at expected effect of some of president-elect Trump's proposed policies.
1. During his campaign, Mr. Trump said that by maintaining its accommodative policies for so long, the Fed is being "political,"1 aiming to keep the economy stable in order to burnish President Obama's legacy and help Hillary Clinton slide into the presidency. We should expect changes at the Fed under the Trump administration, including a new Fed Chairman. This will likely accelerate the "hand-off" of interest rates to market forces.
2. Trump's team outlined several economic actions in his Contract with the American Voter (100-day plan), designed to grow the economy 4% per year. The market is beginning to view them as positive for U.S. economic growth, at least judging by the stock market rally in the days since the election. Quicker growth would mean higher inflation and interest rates.
Distressed Debt Options

3. Trump proposed to lower taxes significantly, including lowering individual taxes and dropping business tax rate from 35% to 15%. However, Treasury debt doubled in the past eight years to $20 trillion, and budget deficits run around $500 billion per year. If quicker economic growth and/or lower government spending materialize, it will help with budget/debt in the long run. But lower tax receipts in the short term might mean larger deficits and higher Treasury borrowing costs.
All these measures seem to point toward higher future inflation and interest rates.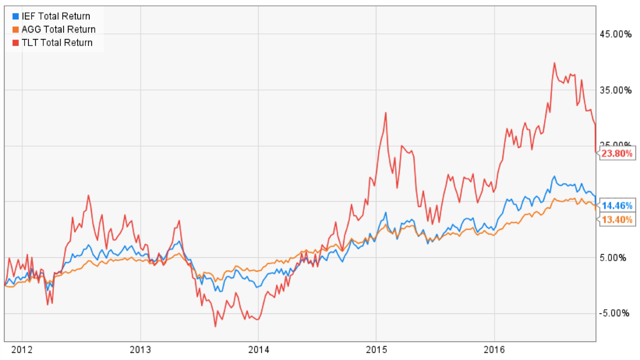 Bond ETF Performance: 5-year
I wrote in my last post "the 1.80% level [on the 10y Treasury] was just breached, so 2% is now within striking distance. This is probably the baseline, most likely scenario in the short term." The election of Donald Trump proved to be a crucial catalyst that made this happen quicker than I thought. The 10-year yield jumped by 20 basis points on November 9th, to around 2.1%, and bond prices plunged on that day. The chart above shows 5-year performance for popular bond index ETFs. Here is their performance since June 30th:
My recommendation in the same post to avoid long-term bonds and to shift to floating-rate notes (FLOT, FLRN) is "paying off" by not losing.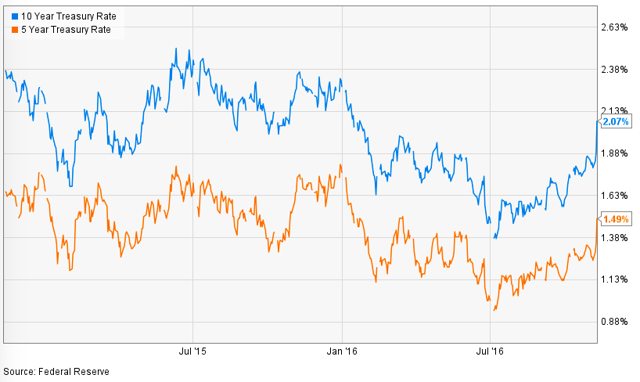 5-Year, 10-Year Treasury Yields: 2-year
What's next? The same recommendations stand. The 10-year yield is likely to rise somewhat higher, but should at least pause around 2.3% which presented resistance last year. That level might attract some institutional buying, and the yield may fluctuate around it. This is predicated upon absence of another significant drop in China's Treasury holdings – but if it occurs, it may trigger panic. Stay tuned.
[1] This was, in part, based on the fact that one regional Fed governor, Lael Brainard, donated to the Clinton campaign, and on media reports that Brainard was "angling for a top job" in the potential Clinton administration.