The anticipation of Rent-A-Center's possible sale is drawing attention away from its 2020 bonds.
Rent-A-Center's operation has shown improvements in cash flow generation.
If an acquisition does not occur, bondholders are not doomed.
Rent-A-Center (RCII) investors are anxiously awaiting the company's strategic review in the hopes of a potential sale. Meanwhile, the company's bonds have experienced some volatility. Recently, the price on the company's 2020 maturing bonds reached 93 cents on the dollar. Combined with the 6.625% coupon, the bonds are yielding over 9.6% to maturity. Since I examined the company last month, Rent-A-Center released its first quarter earnings, which provide debt investors an opportunity to grade the company's performance against expectations.

Source: FINRA
Rent-A-Center's income statement saw deterioration in the company's profitability in the first quarter. Compared to the prior year, revenues declined by more than 5%. The revenue decline bled into the company's gross profit, which also declined by more than 5%. After operating expenses, the company lost $10 million from operations versus a $1 million gain in the same quarter a year ago.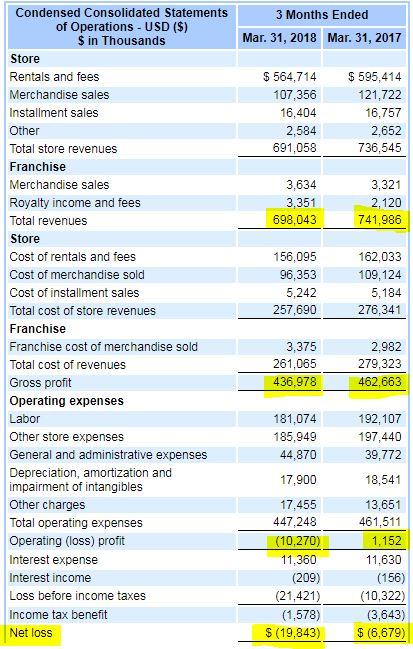 Source: SEC 10-Q
Rent-A-Center's balance sheet saw far more improvements in the first quarter. The company's senior debt, in front of the senior notes in the event of a bankruptcy, saw a balance reduction of more than half in the first quarter. The company's remaining senior debt is also less than the company's cash balance.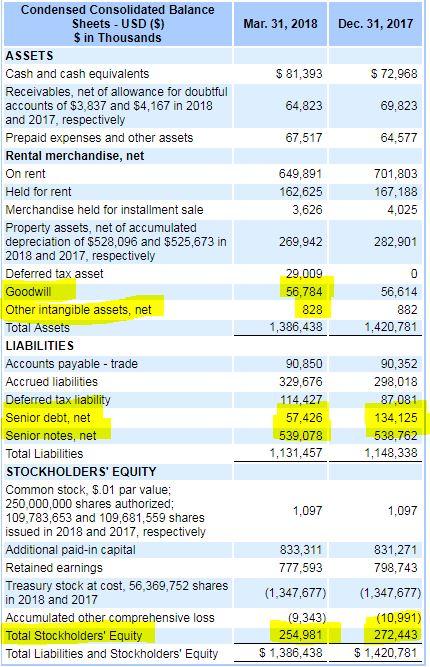 Source: SEC 10-Q
Rent-A-Center's cash flow statement showed continued strength in the first quarter. The company's cash flow from operations surged from the same quarter a year ago to $84 million. Free cash flow of $75 million was well ahead of the annualized guidance of $170 million, which was upgraded last month and reiterated in the earnings release. This influx of cash generation is what led to net paydown of more than $77 million in senior debt.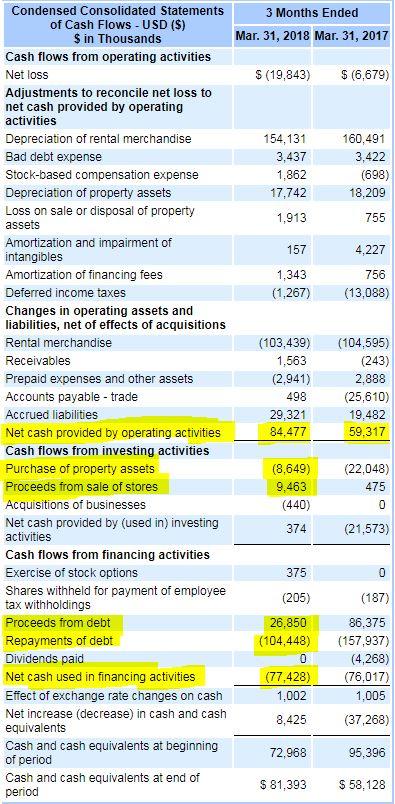 Source: SEC 10-Q
To illustrate the company's ability to pay down debt, a cash flow model was generated last month based on 2018 guidance and earnings outlook. Based on the first quarter results, I have updated the model to reflect the latest reduction in debt. Despite the operational decline and the declining bond price, the company is proving it can still generate the cash to pay off its debt.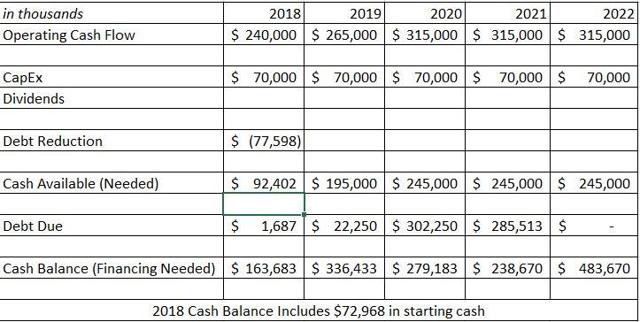 Source: 10-Q Data combined with Earnings Estimates and Guidance
Fixed income investors should take advantage of the recent price drop to pick up more bonds. In the event that an acquisition does not happen, the company's operation can easily service debt and provide fixed income holders with great yield to maturity.
CUSIP: 76009NAH3
Price: $93.50
Coupon: 6.625%
Yield to Maturity: 9.612%
Date of Maturity: 11/15/2020
Credit Rating (S& P/Moody's): CCC/B3