Summary
NuStar energy is a midstream pipeline and energy storage company with a $6.8 billion value.
The company is rated Ba1/BB+, one notch below investment grade.
While their traditional bonds are yielding 4%-5%, the exchange trade bonds yield nearly 8%.
The exchange traded bonds are misunderstood by the market and are thus tremendously mispriced.
As many fixed income investors have noticed in the past few days, bond prices have come down, especially for longer dated issues. Preferred stock, which is typically perpetual, has also declined sharply. As of this writing, since the election the iShares US Preferred Stock ETF (NYSEARCA:PFF) is down a sharp 3.5%, iShares iBoxx Investment Grade Corporate Bond ETF (NYSEARCA:LQD) is down 2.5%, and iShares iBoxx High Yield Corporate Bond ETF (NYSEARCA:HYG) is down about the same at 2.5%. Muni bond ETFs are down about 2.0%, in many cases wiping out 9 month of yield. This is interest rate risk pummeling fixed income, and is primarily due to interest rates rising. Over these same days the 10-year U.S. Treasury rate went up from 1.86% to 2.20%, an 18% rise. Although the rate is still very low historically and still below where it began in 2016, the rapid move upwards tends to spook bond investors.

This Weeks Best High Yielding Bond Reviews

What is the best way to deal with interest rate risk? Simple, stick to shorter term bonds. My personal and client portfolios are structured as a laddered group of individual bonds maturing between 2018 and 2023. I rarely invest in anything past 2023, thereby creating a portfolio that has a 4 to 5-year average maturity and an even shorter duration. The next way of reducing the risk is by owning the individual bond and be willing to hold to maturity. Although the market price of the bond may drop below par during the holding period, at maturity it will be repaid at face value (only barring a bankruptcy by the issuer). Finally, if you can reinvest interest income into new bonds, you will be able to take advantage of higher prevailing rates, thereby offsetting some of the interest rate risk.
The exchange traded bonds of NuStar Energy, L.P. (NYSE:NS) present a unique opportunity to invest in what appears in the headline to be a long dated bond (it matures in January 2043) that deserves to drop in price in the recent market environment, but offers an unusual feature which effectively eliminates all interest rate risk. The bonds, traded under Ticker: NSS, have a very attractive fixed-to-floating feature that kicks in on January 1, 2018. There is also a strong possibility that the bonds will be called by the issuer on the same date the floating rate feature begins, which would mean only a 14-month hold period for investors. Here are the key parameters of the bond:
Bond Details: Exchange Traded Debt, or ETD, ticker: NSS
7.625% of 1/15/2043
Converts to floating rate interest on 1/15/18 to 3-Month LIBOR+6.73%. With LIBOR today at 0.90% the rate would be 7.63%, exactly the same as the current fixed rate.
$403 million total amount issued in January 2013
Current Pricing: Around par, $25 per bond.
Yield-to-Maturity: approximately 7.7%. Although NSS is trading around par, the bonds go "ex-dividend" at the end of December at which time bond holders will be entitled to $0.477 in interest payments per $25 share. The payment date will be January 15th. Since we are already one month into the next payment date the actual YTM is higher, closer to 7.7%.
Coupon Dates: January 15, April 15, July 15, October 15 based on record dates on the first day of each of these same months.
Callable 1/15/18, the same date upon which the bonds convert to floating rate interest. A call on this date would result in a 14 holding period yielding 8.1% — a good outcome. We believe there is a good likelihood the bonds get called based on current yield for NuStar bonds, as discussed below.
The most important feature of these bonds is that due to the switch to LIBOR+6.73% pricing on January 2018, these bonds have no interest rate risk, as the rate will be reset each quarter based on the latest LIBOR rate.
Now let's examine the credit quality of the issuer, NuStar Energy. While credit ratings are often not a reliable indicator of credit quality, they still can give us a sense. NuStar is rated Ba1/BB+, which is one notch away from investment grade, meaning that credit quality appears high here.
NuStar Energy L.P. ("NuStar" or the "Company") is a public Master Limited Partnership engaged in the transportation of petroleum products and anhydrous ammonia, the terminalling and storage of petroleum products and the marketing of petroleum products. Its business is split into two equal segments: (1) Crude oil and refined product storage and terminals (48% of cash flow), comprising 94 million barrels of capacity and 79 terminals, and (2) Refined product, crude oil, and ammonia pipelines (50% of cash flow), 8,700 miles total. The remaining 2% of the business is from fuels marketing. The Company was founded in 1999 and completed its IPO in 2001. NuStar is managed by NuStar GP Holdings, LLC (NYSE:NSH) — this is a common corporate structure for MLPs. For purposes of evaluating the NuStar bonds this corporate structure is not of prime importance.
Distressed Debt Options

Moody's does a good job explaining the key business lines and drivers, so we will quote some of their text describing the company:
NuStar's core cash flows are derived predominantly from the relatively stable, fee-based pipeline transportation and storage businesses, which together comprise nearly 96% of operating income (51% of operating income from pipelines and 45% from storage)… NuStar also has significant geographic diversification, which helps mitigate cyclical and seasonal demand patterns, with pipelines located throughout the US Gulf Coast and Midwest, and 81 terminals in 18 states as well as Canada, Mexico, the Caribbean and the UK. Nevertheless, NuStar's pipeline throughput volumes and storage utilization levels are sensitive to cyclical and seasonal demand for crude oil, refined products, propane, and liquefied petroleum gas (LPG). NuStar's refined product pipelines move refined products from long-established refineries and refining centers to major consuming regions, while its legacy crude pipelines deliver to four of Valero Energy Corporation's (Baa2 stable) refineries, three in Texas and one in Oklahoma, and to other refiners in Corpus Christi, Texas. The MLP's ammonia pipelines connect long-established producers to the major farm belts in the United States. Refined product pipelines and to a lesser extent crude oil pipelines are among the less risky types of MLP assets. [emphasis added] NuStar's product pipelines generate durable cash flow from product throughput volumes that are connected with storage and terminal operations. Refined product revenues tend to benefit from fairly inelastic changes in short-term demand and yearly increases in FERC indexed tariffs, which helps to offset the risk of long-term secular declines in gasoline demand in the US.
The charts below summarizes the key financial information for the company: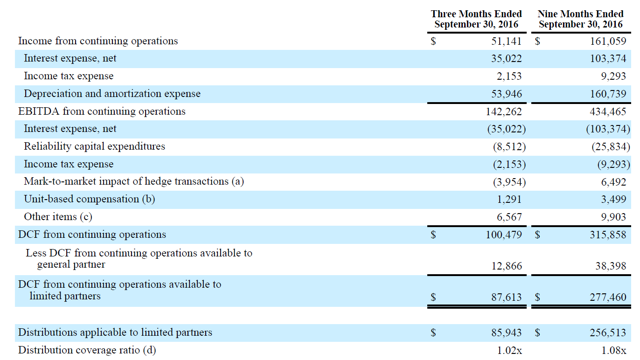 Q3 2016 EBITDA of $142 million is down from $155 million in Q3 2015, but up from Q3 2014's $145 million. Nine months 2016 EBITDA was $434 million, down from $512 million in the same period in 2015, but up from the same period in 2014 which was at $412 million. While the energy crash certainly affected performance in 2016 with lower pipeline volumes and a 15% decline in EBITDA, the business has shown excellent stability over the past three years. The fact is that pipelines serving refineries and storage facilities are far less affected than other pipeline companies more tied to production and processing.
Importantly, the company is generating strong cash flows, with only $35 million of quarterly interest (resulting in strong 4x interest coverage) expense and only $9 million in maintenance capital expenditures. This means about $100 million of free cash flow in the quarter after all mandatory cash uses, nearly $400 million per year. Even after growth capital expenditures, the company is a cash machine. Cash flow from operations in 9 months 2016 came to $314 million, less $160 million of total cap-ex investments, resulting in $154 million in free cash flow, or about $200 million per year. The company has no issues with accessing the capital markets. Of course, most of this free cash flow is being distributed, but these distributions can only be made after all debt service. In a downside or stress scenario, the distribution can be cut or eliminated, leaving plenty of cash flow to reduce debt.
NuStar has a $3.64 billion market capitalization and a $6.76 billion enterprise value, representing a 11x-12x EBITDA multiple of what will likely be about $575 million in annual EBITDA. Like most midstream MLP's, NuStar carries leverage, with about $3.12 billion in net debt, representing a 5.4x leverage ratio. This leverage level is in-line with many midstream MLPs (e.g. Kinder Morgan is at 5.6x, Boardwalk Pipeline Partners is at 4.9x) and reasonable given the difficult to replace hard assets owned by the company and the stable, fee-based cash flow stream.
The Ba1 rating by Moody's is supported by the following commentary by the rating agency:
The Ba1 rating is supported by the breadth of NuStar's refined product and crude oil pipeline transportation infrastructure, storage and terminal assets. NuStar's EBITDA is over 95% fee-based, with growth projects in the Eagle Ford Shale supported by long-term contracts. The rating is constrained by high, yet improving, financial leverage as the company makes substantial debt-financed capital investments to grow fee-based cash flows. In addition, the rating is restrained by NuStar's MLP corporate finance model, which entails high payouts.
In our view, the ratings of MLP's have always been constrained by the high payout policies, however, these payouts are optional and will always be cut in the event that servicing the debt becomes stressed.
It should be noted that the NSS exchange traded bonds are subordinated to the rest of the debt in the capital structure, including the regular high yield bonds. While the corporate credit rating is Ba1, the exchange traded bonds themselves are rated Ba2. This subordination does warrant a higher yield, but not at nearly double the amount of the bonds! Right now the units yield 9.5%, while NSS yields 7.7%, even though the bonds are far less risky than the stock. The chart below shows the mispricing of the exchange traded bonds. The current traditional bonds of NuStar are yielding 4%-5%.

The relatively high yield for NSS leads us to believe that there is a good chance NSS gets called in January 2018. Why would NuStar pay 7.625% interest when it can refinance for almost 3% lower, saving over $10 million per year in interest expense? Of course one cannot be certain what will be in January 2018 so investors should be prepared to hold for longer. But with a floating rate coupon, the interest rate risk associated with long holding periods is eliminated.
Credit Strengths:
Storage and pipeline facilities represent valuable hard assets that are critical to the energy infrastructure of the U.S. Regardless of the price of oil & gas, these assets are necessary and difficult to replace or replicate.
NuStar's pipeline and storage assets are even further insulated from oil prices as they are less tied to production, and more to usage.
Proven stability of cash flows in all oil price environments. Examine the cash flow statement as the key evidence – cash flow from operations was $485 million in 2013, $519 million in 2014 and $524 million in 2015, and on pace for $425 million in 2016.
98% fee based business with 94% from take-or pay contracts. Counterparties are primarily investment grade refiners, with minimal exposure to balance sheet strained oil producers.
17-year track record of growth through the past two energy cycles.
$400 million of annual free cash flow after mandatory cash uses (interest expense and maintenance cap-ex). This cash flow provides excellent protection for bondholders.
Near investment grade corporate rating from Moody's and S&P with no signs that the rating will be lowered due to exposure to the energy industry.
While low oil prices for longer appears to be the greatest risk for MLPs, we see this as more of an issue for the stock price and shareholder distributions, not bondholders. MLPs have had trouble growing and justifying their EBITDA valuations in the teens and high distributions in the face of stagnant results. But two years into the energy crash the midstream MLPs have proven that servicing debt is not a problem. NuStar is even more insulated due to its focus on storage and refineries, less on production at the well.
Finally, one feature of the bonds worth mentioning is that NuStar has the right to defer payments of interest for up to five years. This means that the company could actually stop paying interest and it would not be in payment default. Instead, interest would accrue and be added to the loan balance (and interest would thus be due on this accrued interest), and would have to be paid at maturity. Importantly, if NuStar decided to defer interest, it would not be permitted to pay any dividends to shareholders. While this deferral right is not a feature we like, it is not a concern in our view. The only way the company could defer interest is if it halted all distributions — this means about $300 million of annual distributions would have to be completely eliminated first. The only way management of a midstream MLP would cut all distributions is if it was in deep distress. In this scenario the company would likely be having trouble paying interest anyway. In a distressed scenario, NSS would trade at deeply discounted levels and the deferral of interest would be the least of the issues. Interestingly, the ability to defer interest in a distressed scenario may actually be beneficial, as it would give the company more breathing room — which is good for all stakeholders.