For the first time in this bull market, investors can practically stay in cash without giving up a whole lot of income. Yields on two-year Treasury notes are nearly 2 percent, exceeding dividends in the S&P 500 Index by the most since 2008.
With the Federal Reserve predicted to raise interest rates at least once this year, the short end of the curve is likely to climb even higher. As a result, yield-hungry investors no longer need to park their savings in riskier assets, such as dividend-paying stocks or short-term corporate bonds.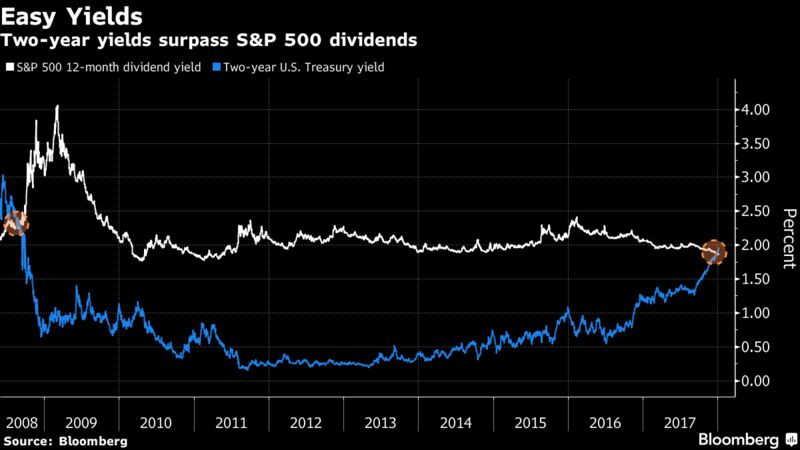 "It's the right strategy if you're looking for income," said Andrew Brenner, head of international fixed income at Natalliance Securities in New York. "You should be moving all your assets and risk into shorter fixed-income because you're getting paid for it."
Two-year Treasury yields reached 1.96 percent Thursday, the highest since 2008 and up from 1.2 percent last year, data compiled by Bloomberg show.
Still, although the strategy may appear attractive, there's little evidence investors are buying it. Appetite for equities and corporate credit remains intact, as U.S. gauges rise to new highs. It's left market participants bracing for a breaking point where risk-free rates become too attractive to ignore and trigger an avalanche of re-allocation away from bond proxies.
"Right now, people are frozen at the stick with this one-way market. It's hard to make a decision because every day you wait, equities go up again," Leuthold Weeden Capital Management's Jim Paulsen said. "What would change that is if there's an event that alters the risk profile of the credit or stock market. Then you'd see real flows as people make adjustments."
That will require two-year yields to hit 2.10 or 2.15 percent in the next three to six months, according to Brenner. Or it'll take a stock market correction, which he predicts will happen in the first half of this year.
As longer-dated Treasury yields remain little changed, investors have already found reason to ditch duration risk and move to the short end of the curve. The gap between two- and 10-year notes flattened Thursday to as little as 50 basis points, the lowest in over a decade.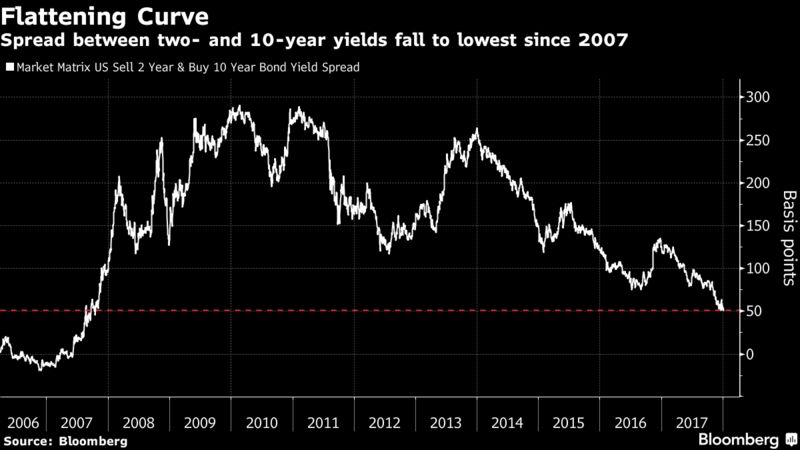 To be sure, some signs have emerged that investors may be straying from stock market bond proxies. Sectors like telecom and utilities, often sought after for their reliable dividend payouts, declined as much as 1.2 percent over the past three months while the S&P 500 gained 7.4 percent.
"There is far more substitution risk here as investors can pare back a little on high-yield without dragging down their income as much as if they made that decision this time last year," Peter Tchir, a strategist at broker-dealer Academy Securities Inc., wrote in a note to clients. "This is a big part of the 'up in quality' trade that I am seeing and predicting."
Reallocation may only come after substantial pain in U.S. markets. But once it does, the shift in yield seeking behavior could exacerbate damage to equities or credit as demand for bond proxies evaporates, Paulsen said.
"It's been reinforced for a pretty long that it's a working strategy," he said. "It's like anything — if it's outperformed for that long, there are most certainly too many people riding the train."