High Yield Bonds – Where Are We Now And 2017 Outlook
High yield bonds are up in the mid-3% range through April 2017, due to a combination of interest income and a rise in bond prices.
High yield appears fully valued with the effective yield of the asset class in the 5.7-5.8% range.
High yield remains resilient and poised to return over 7% in 2017, barring a broad market correction.
Buying and holding individual bonds remains the recommended method of investing in high yield.
As anyone who has followed my writings knows, I specialize in high yield bonds (as well as other sectors of fixed income) and continue to recommend the asset class as one tool in creating a diversified investment portfolio. Why? Because over the last 20 years high yield bonds have outperformed stocks with less risk, especially during the two market crashes. This is particularly beneficial for investors who do not want to accept stock market risk or for income-oriented investors who cannot afford the low yields of various types of investment grade bonds.
The chart below compares stock market returns (S&P 500 Index(SPY)) versus high yield bond returns since 1/1/2000, over 17 years. As can be seen, high yield bonds have outperformed stocks by a 2.3% annualized return each year (7.2% versus 4.9%), and with at least 1/3 less risk (based on standard measurements of risk, i.e. volatility). Performance during the market crashes is a key reason. During the tech crash of 2000-2002, stocks declined by 38% while high yield bonds declined by only 2.5%. In 2008, high yield bonds suffered, but by about 1/3 less than stocks. More importantly, high yield bonds immediately recovered, and by the end of 2009 were already ahead of 2007 levels, while it took stocks another three years to recover to pre-crash levels. High yield fell in 2015 due to the oil crash, which further "infected" unrelated sectors of the market (e.g. the bonds of hospital operator Select Medical (NYSE:SEM) fell at one point in 2015 to the low-80s, to yield 11%); the overreaction was corrected in 2016 and in the end the annualized two-year return for 2015 & 2016 came to 6%. (Longer-term data shows stocks outperforming high yield, but not by much and with far more risk: The S&P returned 10.9% per annum from 1983-2013 versus 9.5% for high yield, but with more than 50% higher risk.) This article will update my current views of the high yield market and expectations for the rest of the year.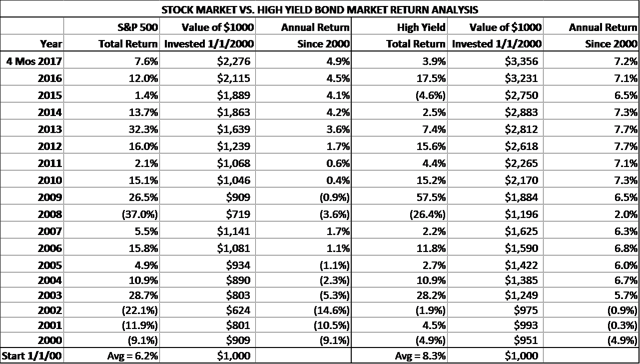 * High yield returns are based on the BofA Merrill Lynch US High Yield Total Return Index
At the start of 2017 I wrote an article about my expectations for high yield bonds in 2017 (following a bullish call on the sector in early 2016), with a view that this year high yield bonds would simply "earn the yield" assuming no major market shocks. After two years of wild swings mostly due to the oil price crash (and to a lesser extent mining related weakness), 2017 was positioned to be more stable. As noted in the January 2017 article, most of the "bad" energy names had already been "cleaned out" of the market and the high yield bond market was therefore less correlated to oil price movements than in 2015 and 2016 (more detail on the decoupling can be found here).
Through April 2017 (and no material changes through mid-May) high yield bonds are up 3.9% according to the BofA Merrill Lynch US High Yield Total Return Index, and a more modest 3.25% according to the iShares iBoxx $ High Yield Corporate Bond ETF (HYG) and 3.37% based on the SPDR® Bloomberg Barclays High Yield Bond ETF (JNK) – mid-3% range on average. The return through April is coming in ahead of the effective yield of high yield bonds, which began 2017 at 6.2%. The outperformance is due to gains in the market value of the bonds, in addition to the income earned. These price gains have dropped the effective yield of high yield to the 5.7%-5.8% range today. Why have high yield bonds gained in price in 2017? A few reasons: continued gains in the stock market, stable oil prices in the high-$40 to low-$50 range, stable interest rates (the 10-year Treasury began the year at 2.45% and is now a bit below that level), and falling default rates (falling from 4% to 2-3% according to Fitch). Anecdotally, investors continue to seek income-oriented investments, boosting prices in this sector.
The chart below shows the effective yield for high yield bonds since the start of 2014. As can be seen, following the wide up and down swings in the asset class in 2015 and 2016, the yield is back to roughly 2014 levels.

What does this mean for high yield bonds for the rest of 2017? The asset class appears fully valued (which means investors still earn the yield, but should not expect further gains in bond prices) and it would not be a surprise if there was a modest pull-back in high yield bond prices, as at some point the effective yield (or spread over Treasuries) drops to levels where the market may resist further increases in bond prices. Assuming the total return for high yield in 2017 matches the effective yield at the start of the year (6.2%), high yield has about another 2.5-3.0% of total return remaining this year. But of course, there is no way of knowing, and assuming no significant pullback in bond prices, which is certainly very possible, high yield may easily end up with 7-9% returns for the year. Arguments for strong performance include declining default rates, what seems like a low probability of a recession, excellent corporate earnings (A WSJ article this weekend noted that "The first-quarter earnings season [Q1 2017] is one of the best overall we've seen in the past decade"), continued stable oil prices, continued flat 10-year interest rates (even though the data shows that rising Treasury rates do not lead to declining high yield bond prices), and a relatively benign stock market environment.
What could lead to a sharp drop in high yield bond prices? A stock market correction, which is impossible to predict, will certainly lead to declines in high yield bonds, but very likely a smaller decline as has typically been the case. High yield bonds prices will also likely recover quickly after a correction, following historical precedent, since high yield bond returns are ultimately more about credit quality than general stock market movements or prevailing interest rates. A recession will also lead to lower high yield bond prices, as a weak economy is a threat to the actual credit quality. There is no way to know if a recession is near, with many arguments for and against. The quote above about strong corporate earnings would seem to indicate that a recession is not around the corner. This recent article in Forbes provides a good overview of the for and against cases. Modest increases in Fed Funds rates are unlikely to have a significant impact on high yield bonds, since these rate increases correlate to a strengthening economy which is more important for high yield bonds prices.
Some observers constantly beat the drum of imminent sharp declines in high yield, but I do not see a bubble in this asset class that would signal such an event. The chart below is the best evidence; the value of the high yield index remains below its 2013 and 2014 levels, even after the 2016 double-digit gain, which was not really a sign of froth but simply a reversal of the negative return in 2015. The high yield bond index is not the classic chart of a bubble in the making. The second chart below shows housing prices 1963-2010, with an actual bubble spiking by 2007 – again, the high yield chart looks nothing like this. The current NASDAQ index – see the third chart below – looks like far more of a bubble than high yield bonds. (I am not saying the NASDAQ is in a bubble, I'm just pointing out that bubbles are created with ever rising prices, not with prices that are well below levels of 2 and 3 years in the past).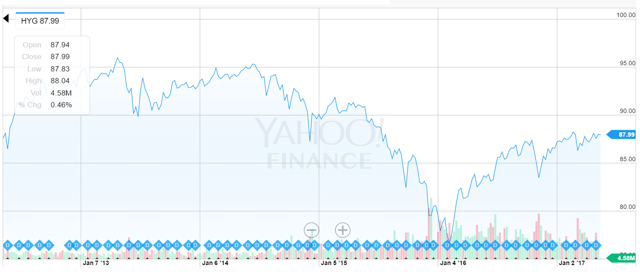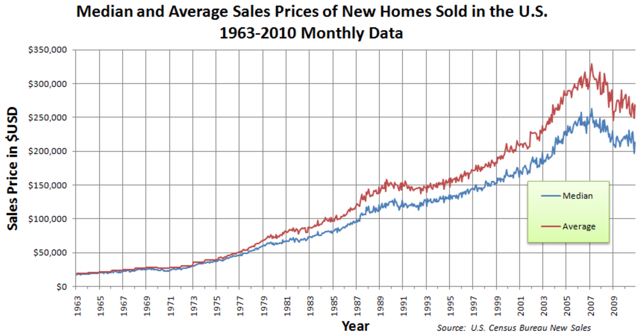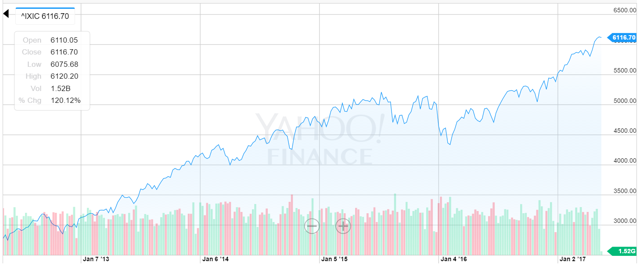 What's the best way to invest in high yield bonds right now and how can one protect against possible market declines? If you are a trader, moving in and out of positions based on short-term market movements with the expectation of bond price gains (traders don't invest for income yield) now is probably not a good time to enter this market. But it may not be a good time to enter any market based on these same arguments (again, look at the NASDAQ chart). If you are a long-term investor with a diversified portfolio strategy, or an income-focused investor with a buy-and-hold mentality, high yield bonds still offer decent yields, and returns are likely to be positive for the remainder of 2017, even if one month here or there bond prices decline modestly.
Index ETFs are not a recommended way to invest in high yield. The index, by definition, holds the broad universe of bonds, including weak CCC and other issues, and also exposes investors to the buy and sell movements of other investors.
I continue to recommend investing in a curated portfolio of individual bonds, avoiding weak issues with obvious "hair" on them. For example, CCC names, oil production companies (still to be avoided in most cases) and bonds issued by private equity, which tend to be too leveraged. Invest with a buy-and-hold to maturity strategy, and ignore the price volatility of the market. If holding an individual bond, and the bond price pulls back a bit or even more if the stock market crashes, assuming the underlying credit quality of the issuer is solid, you can simply continue to hold the bond. You can ignore these price movements, wait until maturity for the bond to be repaid in full, all the while earning interest income on a daily basis. Keeping maturity dates and duration short-to-medium term is also an important way to reduce market, credit and interest rate risk. Right now, I am not investing in any bonds past seven years and in most cases 2020-2023 maturities, for overall portfolio duration in the 4-5-year range. If unable or unwilling to purchase and hold individual bonds, I prefer a closed-end fund to an index, with a competent fund manager and a solid group of underlying bond holdings (also check portfolio duration, general credit quality, and distribution coverage). A key advantage of CEFs over ETFs is that the CEF fund manager is never under pressure to sell fund holdings in reaction to market movements.
Author's note: Please consider Downtown Investment Advisory's subscription service through Seeking Alpha, The High Yield Bond Investor. The newsletter offers deep analysis of three recommendations per month, focused on yields in the 6-8% range, with maturities of four to seven years, for the buy-and-hold investor, as well as regular exclusive insights on High Yield Bonds and related investments such as Exchange Traded Debt and Preferred Stock. We seek to uncover undervalued and "off the radar" opportunities. Read subscriber reviews here. Please see our profile page for important disclaimers.