An investment rule of thumb tells us that when interest rates rise, bonds go down in value.
While this is generally true for government and high-grade bonds, generalizing to high-yield bonds does not make sense.
High-yield bonds are more sensitive to credit quality than changes in interest rates.
Historically, rising rates have not led to declines in high-yield bonds.
I rarely share my top ideas for free. Members of High Yield Bond Investor receive exclusive access to all of my top ideas.
The story in the credit markets right now is the sharp rise in the 10-year Treasury rate. The chart below shows the recent increase to about 2.44%, up from 2.06% in early September. Although this matches peaks around the same level from this past July and May, and a 2.6% range in March, the sentiment is that this time around, the yield won't drop back down. There is no way to know what will happen next of course.
But some market experts believe the 10-year is heading to 3%, spelling trouble for the bond market. Well-known bond investor Jeffrey Gundlach wrote yesterday: "The moment of truth has arrived for secular bond bull market! Need to start rallying effective immediately or obituaries need to be written."
A bit of hyperbole in my opinion, but point made nevertheless. Increases in the Fed Funds rate, which may see another move up later this year, and perhaps several moves up in 2018, will likely also pressure the 10-year rate. On the other hand, demand from foreign buyers and geopolitical fears will put downward pressure on rates (see second chart below).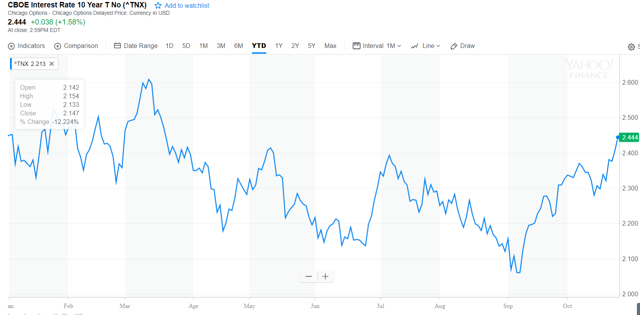 The chart below shows 10-year government rates in Europe. As can be seen, the 2.44% rate in the U.S. is far above the paltry rates in most of Europe; even Portugal has lower rates.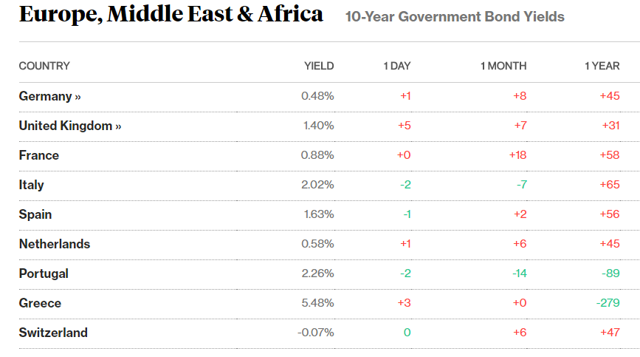 Common wisdom states that rising rates means lower bond prices. The financial news will often talk about the "bond market" as if there is one, monolithic bond market. Generic references to the "bond market" typically refer to U.S. government bonds; it almost never refers to the high-yield bond market, or even corporate bonds in general. High grade bonds, such as government bonds and higher tiers of investment grade (e.g. BBB+ and higher), do in fact respond more closely to moves in interest rate.
Since high grade bonds carry very little credit risk (and U.S. bonds carry zero risk in finance theory), they are more about relative interest rates and duration. Right now, I consider high grade, low-yield bonds of longer duration (let's say 7 years or more) as risky due to their high sensitivity to interest rates. Although if holding to maturity you will get all your money back and some return, the opportunity cost of locking in a very low rate for 7 years or more can be significant.
Many investors likewise believe that rising rates will also lead to declines in high-yield bonds. After all, the "rule" of rates up, bonds down seems ironclad. However, high-yield bonds are a totally different market and do not respond to changes in interests rates like high-grade bonds. The chart below shows the evidence. At left are the 12-month periods when the 10-year rate rose by 1% or more (0.98% in the Sep 16-Dec 16 period).
Senior loans, which are in most cases floating rate, always showed positive returns. High-yield bonds, which are fixed rate, also performed quite well, up in 5 of 6 periods of rising rates. On the other hand, bonds in the "aggregate" index (generally U.S. government bonds) and investment grade corporates declined in all cases, although not dramatically.

Why do high-yield bonds seem counter-correlated to rising rates? Because high-yield bonds are primarily correlated to credit risk and default rates, not movements in prevailing interest rates – the opposite of government bonds which have zero credit and default risk but plenty of interest rate risk. Rising rates usually means that the economy is doing well, and this means high-yield bond issuers as a group perform better, with lower defaults and improved credit statistics.
The Fed is considering increasing rates precisely because the economy seems to be doing well overall. Also, high-yield bonds are less sensitive to interest rate movements because the issues tend to be shorter duration instruments compared to government bonds.
In conclusion, the risk of rising rates should not be cause for great concern for high-yield bond investors. While on the day that the 10-year rate rises high-yield bonds (HYG and JNK) may experience a decline, often due to short-term market reactions, the decline is typically short-lived. Despite the evidence and historical experience, I still consider interest rate movements a risk to high-yield bond investing. Therefore, I still seek to maintain my high-yield bond portfolios at average durations of under 5 years. In general, shorter duration portfolios help reduce all risks related to fixed income investing.
Author's note: Please consider Downtown Investment Advisory's subscription service through Seeking Alpha, The High Yield Bond Investor. The newsletter offers deep analysis of three recommendations per month, focused on yields in the 6-8% range, with maturities of 4 to 7 years, for the buy-and-hold investor, as well as regular exclusive insights on High Yield Bonds and related investments such as Exchange Traded Debt, Preferred Stock and Closed End Funds. We seek to uncover undervalued and "off the radar" opportunities. I offer my 24 years of professional expertise in credit and high yield to subscribers. Read subscriber reviews here.