Former Fed chairman says inflation could work to boost yields

Greenspan says readjustment to higher yields entail problems
Former Federal Reserve Chairman Alan Greenspan sees longer-term market interest rates increasing as inflation takes hold in the U.S.
"If the early stages of inflation, which are now developing, would take hold, you could get — fairly soon — a fairly major shift away from these extraordinarily low yields on 10-year notes, for example," Greenspan said in an interview on Bloomberg Television on Monday. "I think up in the area of 3 to 4, or 5 percent, eventually. That's what it's been historically."
The target range for the Fed's main policy rate is 0.25 percent to 0.5 percent, and the yield on 10-year Treasuries remains below 2 percent. Greenspan reiterated his often-repeated point that such low rates are unsustainable in the longer run, and said that he sees nascent inflation as the possible end to the bond bull market.
"We're moving into the very early stages of inflation acceleration," Greenspan said. "That could be the trigger."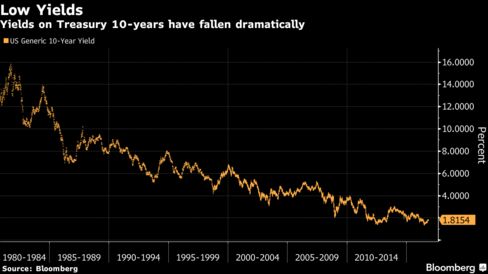 The three-decade rally in U.S. Treasuries set a new record this year, with benchmark 10-year yields falling to an all-time low of 1.32 percent in July. Even though they've climbed since then as the Fed primes the market for another interest-rate increase next month, the broad market has still returned 4.2 percent this year, according to Bloomberg Barclays index data.
Challenges lie ahead as longer-term rates adjust upward toward a more historically normal level, Greenspan warned.
Distressed Debt Options

"It's a problem, as in going from where we are now to 4 or 5 percent," he said. "There's a whole structure of adjustments which have taken place, basically since 2008, which have to be unwound, and that's not going to be done without a problem."
Election Uncertainty
The U.S. 10-year yield climbed to 1.82 percent on Monday, near a five-month high, after the Federal Bureau of Investigation reaffirmed that Democratic candidate Hillary Clinton didn't commit a crime in handling her e-mails as secretary of state. A Clinton victory is seen by strategists as less disturbing to financial markets, keeping the Fed on track to hike at their December meeting.
Greenspan also said that he would like to repeal the Dodd-Frank Act, the post-crisis financial regulation measure that he said is reducing liquidity in the financial system, and replace it with a large equity-to-asset ratio requirement for financial intermediaries.
"I would very much like to go back to square one, repeal Dodd-Frank," Greenspan said, adding that he's "thinking of 20 to 30 percent capital requirements."