$1 trillion overhang to weigh on credit, FX, stocks: Deutsche

Strategist in minority as credit rally, tax cuts preoccupy
Krishna Memani of OppenheimerFunds says the end of the bond market is an exaggeration.
A "dramatic" increase in U.S. bond supply over the next year risks unhinging global markets from their bullish foundations, warns Torsten Slok at Deutsche Bank AG.
The supply of U.S. government debt will almost double to $1 trillion this year to finance a widening budget deficit as the Federal Reserve whittles down its holdings. Unless new buyers emerge, the overhang could be far-reaching.
"If demand for U.S. fixed income doesn't double over the coming years then U.S. long rates will move higher, credit spreads will widen, the dollar will fall, and stocks will likely go down as foreigners move out of depreciating U.S. assets," the chief international economist at the German lender wrote in a note Tuesday. "And this could happen even in a situation where U.S. economic fundamentals remain solid."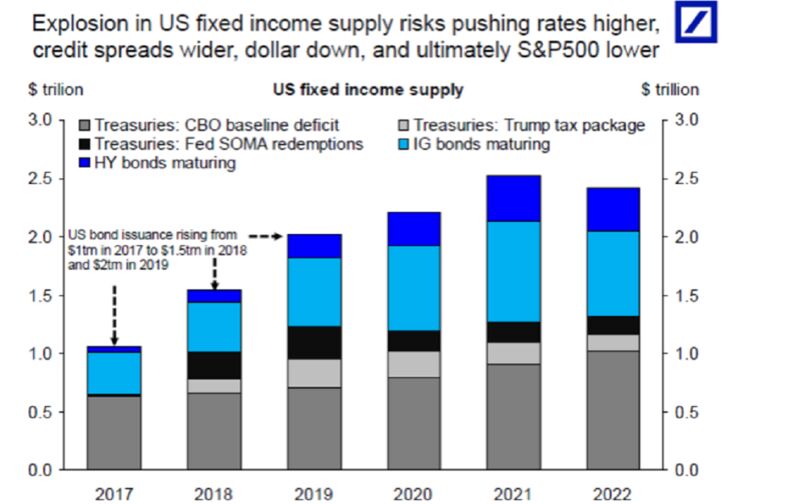 Those fears aren't shared widely on Wall Street, where spreads on corporate bonds have sunk to 2007 lows and bullish indicators abound. The rally in credit appears relentless, retail demand for bonds is insatiable and tax cuts may reduce corporate borrowing.
Commercial banks, emerging-market reserve managers and pension funds are all set to plug the $1.1 trillion hole in global bond demand left by central banks this year, according to JPMorgan Chase & Co.
China is projected to continue to invest its surpluses in American securities despite reported threats to the contrary. Muted inflation expectations are also keeping a lid on long-dated yields.
Even so, the chief patrons of global fixed-income markets — central banks — will step back just as U.S. Treasury issuance increases and companies look to refinance.
"The dramatic increase in U.S. fixed income supply in 2018 is a significant risk to markets," Slok wrote.