Updated on
CSI 300 Index, Shanghai Composite Index enter bull market

More analysts are suggesting investors to pile into shares
A surge in equities is blunting the attraction of China's world-leading bond rally, prompting analysts to recommend clients pile into stocks rather than debt. News that the U.S. will extend a tariff truce is likely to fuel that momentum.
The rally since Jan. 3 has added more than $1 trillion to the value of the country's equities, while China's sovereign notes have barely moved. Though both stocks and bonds benefit from potential policy loosening, stocks got an extra boost from easing trade tensions and now look cheap after the worst plunge in a decade last year. More analysts are touting equities over debt, with Huachuang Securities Co. saying the latter may decline in coming months as risk appetite strengthens.
On Monday, the CSI 300 Index and Shanghai Composite Index took their gains to more than 20 percent from last month's low — the threshold that typically denotes a bull market after a decline of the same magnitude. Meanwhile, government bonds declined, pushing the benchmark 10-year yield up for a third day.
That's a far cry from last year, when shares slumped into a bear market and bonds gained the most in three years. The tables have turned as China's credit growth beat estimates in January, suggesting previous stimulus measures may be putting a floor on a sagging economy, and as trade talks with the U.S. progress. Regulators also helped, with the securities watchdog easing some trading restrictions, encouraging more leveraged bets on stocks.
"It's still springtime for the rally in stocks, but its autumn for the gains in bonds," said Yin Ruizhe, chief fixed-income researcher at China Merchants Securities Co. in Shanghai. "Both asset classes will likely keep rising for a while, before the gains in debt fade away amid faster credit growth."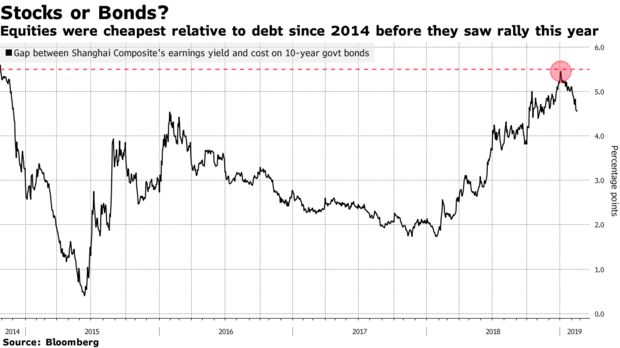 President Donald Trump said he's extended a deadline to raise tariffs on Chinese goods until he can meet President Xi Jinping after the two sides made "substantial progress' in the latest round of trade talks that wrapped up Sunday. The onshore yuan touched the strongest level since July on Monday.
The rapid ascent of Chinese bonds last year is now a drag — the surge put them at the priciest level relative to stocks since late 2014 last month, according to Bloomberg calculations based on the 10-year sovereign yield and the earnings yield on the Shanghai Composite Index.
Bonds will likely be pressured in the next three to six months, as investors withdraw their money from fixed-income funds to buy stocks, Li Junjiang, an analyst at Huachuang, wrote in a note. Equities are better investments than bonds, while corporate notes are preferred over government and policy bank debt, according to Industrial Securities Co.
That doesn't mean equities are sure bets — signs of overheating are already flashing in a recent surge underpinned by fickle investor sentiment. Traders borrowed more cash to chase the rally, with buying momentum so strong that it sent four major indexes into overdrive.
The yield on China's 10-year government bonds rose 3 basis points over the past month to 3.17 percent, while the Shanghai Composite Index has surged by around 14 percent in the same period.
"Bonds will be pressured by better risk appetite in the short term," SWS Research Ltd. analysts led by Meng Xiangjuan wrote in a note, adding that the debt market is "shrouded in a depressed mood" due to the rally in stocks.