200 basis points over Germany the 'sticker price' for Aberdeen

Allianz sees 25% chance of spread widening to 300 basis points
It's not easy to decide when to buy one of the highest-yielding bonds in the euro-area.
But that's the challenge facing money managers, as Italian securities get battered by the prospect of an impending anti-establishment government that threatens to balloon borrowing and resist further European integration. For Hermes Investment Management, the time is now, but for others, the slide in Italian bonds may have only just begun.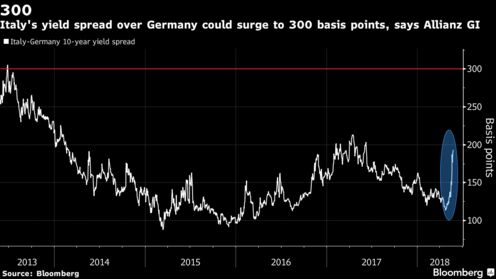 "In fixed income, the only thing that we are long at the moment are Italian bonds," said Hermes multi-asset money manager Tommaso Mancuso, who helps oversee 34 billion pounds ($45 billion). "The market has a tendency of overpricing political issues so this may be just a short-term market correction."
The country's 10-year bonds, rated investment grade, currently provide investors holding them with a yield of nearly 2.5 percent — more than 205 basis points higher than those on German bunds. By comparison, Spanish bonds offer yields of about 1.5 percent, even with the nation's prime minister facing a possible vote of no-confidence.
Here are the yield spread levels investors are looking at to reinstate long positions on Italy once again:
200 Basis Points
For Aberdeen Standard Investments' money manager Luke Hickmore, a premium of 200 basis points over Germany is the first "sticker price" to consider a long position, given that any headlines have potential to spook the market. The current level marks the widest spread since April last year, and beyond that would head to figures last seen in 2013.
"Is this coalition government going to be reasonable with its fiscal plans? It is likely to be no, which suggests to me that a premium is needed," Hickmore said in emailed comments. A spread level of 200 basis points "still will not be pricing in any real stress in the euro or Italy's place in Europe."
Hickmore is joined by Carmignac Gestion SA money manager Charles Zerah, who said he wouldn't go long beforehand because of hedge funds and insurance companies dumping holdings. "For the moment, it is an issue of timing but at 200 basis points over Germany is a good level to buy," he said.
215 Basis Points
Investec Asset Management Ltd. money manager Russell Silberston is eyeing a further increase until he considers re-entering a long position. Italy's political turmoil comes at a time when the European Central Bank is looking to extricate itself from an unprecedented package of stimulus measures.
"It's hard to be bullish unless the populist parties roll over," he said in emailed comments. "We don't think there are any near-term questions about solvency, just investors are likely to need a bigger premium to take the risk."
250 Basis Points
Last year's high of 213 basis points over bund yields marks the next main test for Italian bonds but the spread could easily go higher if the situation worsens, according to Andrea Iannelli, investment director at Fidelity International, which manages $324.5 billion. A level of between 250 basis points and 300 basis points is "definitely a level where we would see if it is worth changing tack," he said in an interview in London.
"The composition of the cabinet will be very closely watched," he said. "There is going to be a lot of arguing and a lot of things that may come undone."
300 Basis Points
While Italian bonds are currently attractive from a yield and spread standpoint, there's a 25 percent chance that the premium investors require to hold the securities over 10-year bunds could surge to 300 basis points, according to Allianz Global Investors money manager Brian Tomlinson. That ties in with a similar probability highlighted by JPMorgan Chase & Co., which sees such a level being breached if the country's new government is very confrontational toward Europe.
"Non-European investors are not coming back to buy Italy — all good will has been exhausted," Tomlinson said in emailed comments. "This is a structural shift in investment sentiment toward Italy, for the worse."