After outsized rally, some investors seeing rich valuations

Janus Henderson and Oppenheimer paring Brazil bond holdings
Brazilian bonds are losing their luster after one of the biggest rallies in developing nations.
Steve Drew, the head of emerging-market credit at Janus Henderson, which oversees $331 billion in assets, shifted from an overweight position in Brazil to underweight six weeks ago. Oppenheimer Holdings Inc. has also reduced its exposure, while Andbank is advising its clients to buy only the country's most liquid bonds — which would be easier to unload during a selloff.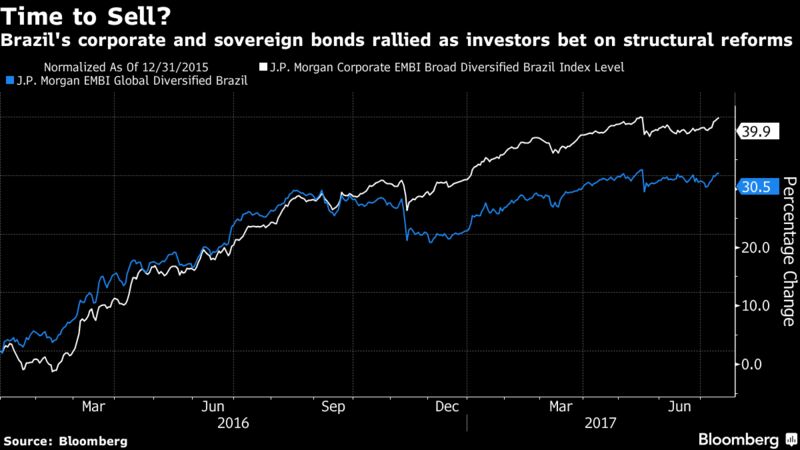 Investors say bond prices are looking inflated after a 40 percent rally in dollar-denominated corporate notes and 30 percent gain in sovereign securities since the beginning of last year, when the ouster of President Dilma Rousseff spurred bets on an economic revival. Now her replacement, Michel Temer, is facing potentially career-ending corruption allegations, threatening to derail his push to revive growth and shore up the country's finances.
"The market doesn't have a lot of buffer for negative news at these spread levels," said Drew, who advises portfolio managers on emerging-market credit.
Janus Henderson, the firm that resulted from the merger earlier this year of Janus Capital Group Inc. and Henderson Group Plc, is focusing its Brazil investments on what its portfolio managers view as undervalued companies, including beef producer Marfrig Global Foods SA and copper miner Votorantim Metais SA.
As the investment manager scales back in Brazil, that money is going to Turkish debt, notes from some Argentine provinces and longer duration bonds in Qatar, Drew said.
Claudia Castro, a senior analyst at Oppenheimer, which manages $240 billion, said money managers there have been trimming Brazil holdings since May, when Temer was engulfed by corruption accusations that stemmed from plea bargains made by corporate executives. The firm is now "less overweight" in local and overseas bonds.
Temer last month was charged with corruption after allegations he received bribes from a meat-packing company. The lower house will decide whether he is tried before the nation's top court.
Brazil's sovereign dollar bonds due 2026 rose 0.4 percent to 109.99 cents on the dollar as of 11:13 a.m. in New York.
"Valuations are stretched and political uncertainty is higher, so we took profit," Castro said. "We can't really have a lot of visibility in terms of the reforms."
Investors are closely monitoring the outlook for Temer's proposals to pare back pension benefits to put the country on better fiscal ground. While another important bill to modify labor laws to make it easier to hire and fire workers was approved by the Senate last week and turned into law, the pension legislation hasn't come up for a vote amid concern the unpopular measure will face resistance.
The cloudy political outlook means Andbank, a private investment bank based in Andorra, is recommending clients hold only the types of bonds that can most easily be sold if things quickly go bad. Carlos Gribel, the head of fixed income at the bank's brokerage in Miami, said notes from state-controlled oil company Petroleo Brasileiro SA are appealing.
"You have to be quick to pull the trigger if needed," he said.