Douglas, Kloeckner Pentaplast bonds drop in fragile market

Secondary sales of debt help trigger large price falls
Bonds of two unrelated German companies that have slumped in recent months provide a cautionary tale of how the slightest whiff of bad news is able to unsettle investors in a nervous high-yield market.
Beauty chain Douglas GmbH's bonds due 2023 have lost about 20 cents on the euro so far this year to 87 cents, while notes issued by packaging maker Kloeckner Pentaplast GmbH maturing the same year have lost almost 30 cents on the euro in 2018. The securities of both issuers are part of large and widely held capital structures and have declined after large block trades were reported.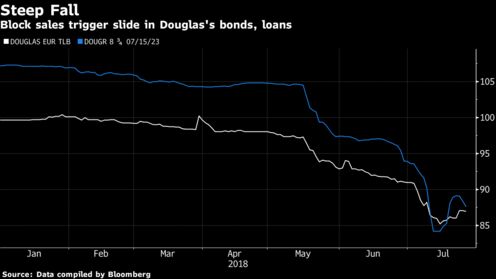 Credit markets have been growing more febrile throughout the year as the era of central bank support comes to an end. Spreads have widened and a succession of high-yield bond deals have been postponed or withdrawn in recent months.
A block sale of Douglas's loans took place in May, according to people familiar with the matter, leaving the public bond market to second guess what the loan market might know. Morgan Stanley is said to have sought buyers for a block of Kloeckner bonds in April.
"On Douglas, I think the selling of the loan has spooked bondholders, as they are paranoid that the loan guys must know something extra, even though that may not be the case," said Rob Orman, a credit analyst at Henderson Global Investors.
Feeding into the drastic moves are long positions among trading desks and generally softer secondary markets, as well as an impending turn in the credit cycle.
Against this backdrop, weaker operating performance is being punished. First-quarter earnings for Kloeckner compounded the drop in bond prices, while the sharp decline in Douglas's notes coinciding with disclosure by the company that competition from online retailers is chipping away at the company's sales in Germany.
Analysts and asset managers say the softer tone of the market this year has prompted high-yield fund managers to identify those names that have traded too rich for too long. The Markit iTraxx Europe Crossover index linked to speculative-grade borrowers has widened 50 basis points this year.
In some cases, investors can own credits for their technical or duration characteristics, rather than fundamental ones, making them ripe for a sudden move if any warning signs emerge, while at the same time there is less depth in the secondary bid.
"The street's risk limit is smaller," said Azhar Hussain, head of global high yield at Royal London Asset Management. "It could well be that traders are clearing their books of some of the racier names."
Cross Pollination
Large buyouts have seen borrowers combine bonds and loans in the capital structure, and at the same time there are more funds that take positions in both asset classes, making it more likely that trading in one will impact the other.
In June 2015, Douglas added first-lien bonds due 2022 and second-lien bonds due 2023 to its 2.3 billion euros ($2.7 billion) debt, which is dominated by 1.7 billion euros of leveraged loans. Kloeckner's debt includes 1.4 billion euros-equivalent of term loans and 395 million euros of holding company bonds.
"For names with both loans and bonds in the cap structure, their debt can be more volatile as the European leveraged loan and high-yield bond markets do not always move in tandem," said Tyler Wallace, head of the European loans business at Fair Oaks Capital.
Dynamics within the loan investor base may also contribute to volatility, as large names fall in and out of favor with core CLO buyers.
"Douglas is a large deal and some loan trading desks may have been long," Wallace adds, noting that while Douglas is widely held in existing CLOs, it may not be a name approved for new warehouses given the negative news and price movements.