Latest bond market sell-off should soon see a climax.
A bond market bottom will lift the immediate pressure from stocks.
Investors will eventually reconcile rising stocks and rising bond yields.
With Wall Street's gaze fixed firmly on the threat posed to stocks by rising interest rates, it's time to take a contrarian look at the bond market. In this commentary we'll examine the signs which point to a temporary bottom being imminent in bond prices. We'll also discuss the likelihood that once a low has been established for bonds, the immediate pressure facing the equity market will be relieved enough for stocks to rally again.
Unless you've been living in a cave, there has been no ignoring the fuss made of late in the media regarding rising bond yields. Oddly enough, this obsession contains a measure of predictive value. Machiavelli famously stated that when a problem has become so big that everyone can see it, the time for remedies has passed. Perhaps a more succinct way of applying that aphorism to the financial market is that when a trend is obvious to all, that trend is likely near its terminus. This could be the case for the rising interest rate trend, at least in the short term.
While the forces that have unleashed rising interest rates since 2016 are still in play, an argument can be made that a temporary "correction" – or at least a "pause that refreshes" – is in order before Treasury yields resume their climb. We'll examine that scenario here.
One of the most important directional determinants of Treasury yields is anticipated future inflation. The first place where inflation expectations are usually reflected is in the commodity market. To that end, a sustained rally in the broad commodity market benchmark, the Thomson Reuters Core Commodity CRB Index (CRB), often precedes a rally in U.S. Treasury yields and a decline in bond prices. The graph shown below illustrates what happens to the longer-dated Treasuries when the CRB rises sharply. The following comparison of the CRB Index with the iShares 20+ Year Treasury Bond ETF TLT shows that rising commodity prices have preceded bond price declines (and yield increases) in the past year, while a falling CRB makes it easier for bond prices to rally.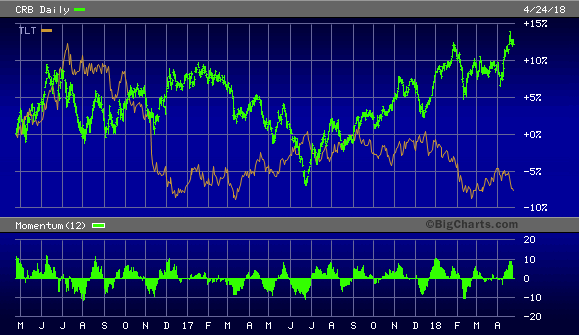 Source: BigCharts
A rising trend in the CRB is an unmistakable sign that inflation pressures are increasing since commodities are always the first assets to feel it. And since inflation is the bond investor's worst nightmare, bond yields will rise and bond prices fall as money rotates out of income securities and into commodities as investors hedge against inflation risk. Therefore as long as the CRB is trending above its widely-watched 200-day moving average the dominant longer-term trend for Treasury yields should also be considered to be rising.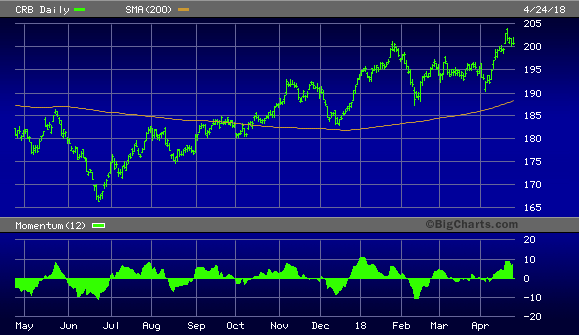 Source: BigCharts
In the very near term, however, there is a growing list of anecdotal evidence that a temporary bottom may soon be in for bond prices. It goes without saying that such a development would be of immense relief to equity market investors since it would remove, temporarily at least, the source of immediate pressure on stock prices. Consider first the recent increase in financial media headlines bringing attention to the threat posed to stocks by rising Treasury rates. A prominent example of this is the April 23 article by Mark DeCambre of MarketWatch, which made reference to stock investors "freaking out" about the possibility that rising rates would end the three-decade-long bull market. Another article on Tuesday noted that stock prices are taking it "on the chin" as bond yields rise. The growing appearance of news articles which highlight this problem contains contrarian significance in that the market has likely already discounted the damage posed by bonds, at least in the immediate term. This is one piece of evidence that relief should be soon forthcoming for stocks.
Another, more technical sign that a temporary cessation of rising yields may be imminent is found in the graph of the 10 Year Treasury Note Yield Index (TNX). You can see here that TNX has become visibly over-stretched from its underlying 200-day moving average. The 200-day MA is arguably the most widely-followed technical tool used by investors and trend followers of all stripes, including those who favor fundamentals over technicals. Historically, TNX has moved far closer in line with the 200-day MA and whenever it becomes distended from this trend line a reaction, or corrective pullback, soon follows. With Treasury yields now testing the psychologically significant 3 percent level, this would also serve as an obvious incentive for bond bears to take profits on short positions.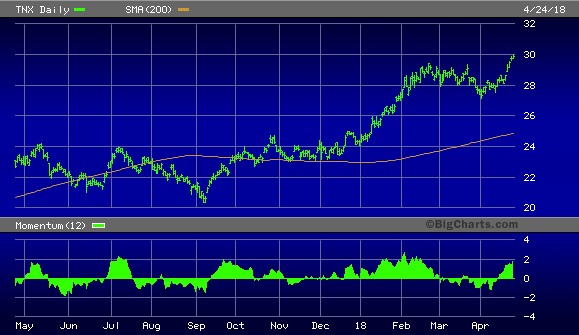 Source: BigCharts
The market's recent hand-wringing over rising rates might be termed as a "Treasury tantrum" in Wall Street lingo. It's the natural consequence of trend recognition on the part of the majority of investors, but their collective fears will be temporarily assuaged when Treasury yields pull back or at least stop rising for several days. Corporate shares, free from the immediate constraints of rising yields, will then be enabled to rally from their recent lows and adjust to the higher level suggested by the positive impact of the Tax Cuts and Jobs Act (TCJA) on earnings.
Eventually, though, stock market participants must reconcile themselves to the fact that the long-term trend for interest rates is up and that the long period of low rates is over. A similar reconciliation was made in the 1960s, a decade in which stocks and rates rose together. Then, as will likely happen now, once the initial shock wore off investors adjusted their expectations for economic growth within the context of a rising rate environment. A semblance of normalcy returned to the financial market then as it will eventually do so now as investors realize that rising rates are a reflection of economic growth and that stocks and rising rates can coexist in relative peace.
While the longer-term trend in Treasury prices remains down, a short-term bottom appears imminent. The next confirmed bottom in T-bond prices will take pressure off the equity market and afford stocks an opportunity to rally while bringing some much needed relief to the overall financial market. Investors shouldn't expect a return of the bond bull, however, but should expect the long-term downward trend in bond prices established in 2016 to remain intact. Investors should also continue to focus on the shares of fundamentally sound companies, which should benefit far more than Treasuries from the prevailing climate of rising confidence and economic expansion in the longer term.