Inflation is expected to rise even further.
Economic growth and rising commodities are pushing producer prices to new highs.
It seems to be just a matter of time until TLT breaks down further.
Government bonds are not only a wonderful trading vehicle, they are also the main component of many investor's long term investment portfolios. That's why it is important to see lower yields over time to protect your riskier stock investments and to gain some extra income. In the case of government bonds we are seeing a few very interesting macro changes that will massively influence the price and yield of bonds on the mid-term. I will base this article on my favorite government bond ETF, the iShares 20+ Year Government Bond ETF (TLT).
Pricing Pressure Is Red Hot!
Let's dive right into it: The pressure on the consumer in terms of pricing will increase massively over time as the next graph suggests. The graph below shows the regional manufacturing prices received index. This index is a leading index since it tells us what manufacturing companies expect in terms of their received prices from customers.
The comparison to the consumer price index reveals that the bigger trend is always being followed even though real prices are less volatile. We also see that prices received indicate a CPI of at least 4.0%. Current CPI growth is merely above 2% after hitting almost 3% in 2017.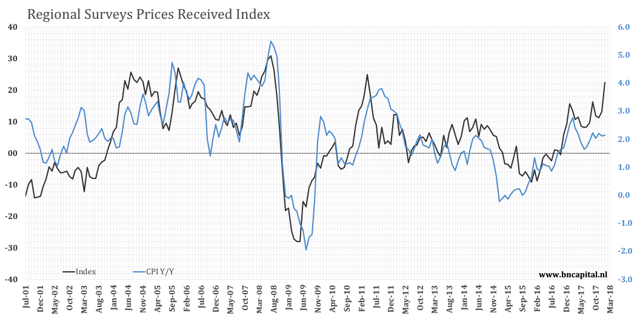 The prices paid index is also indicating higher prices growth even though official producer prices already followed 'their' leading indicator very well. At this point, it is safe to say that producer prices are expected to grow at 5%.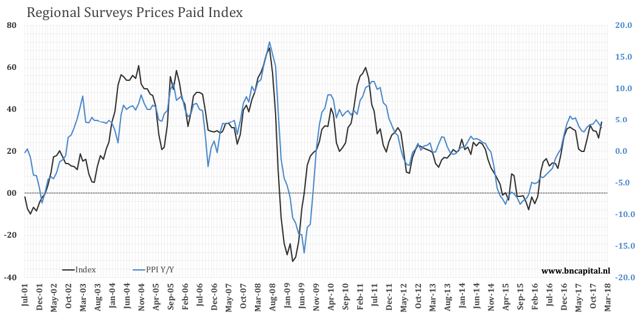 However, that's not everything. All graphs I just showed you are updated and show the latest January results. The graph below shows the first 4 regional indicators for the month of February. That's 4 out of 5 with Dallas still missing. What we see is nothing short of stunning. Prices paid have soared to 40 in just one month. This is indicating the highest PPI growth since 2010 and is much higher than I expected. And I was already a bond bear months before I started writing this article.
The ISM Index Agrees
The leading ISM manufacturing prices index is another way of showing pricing pressure. Note that I inverted the ISM index to show you the correlation to the TLT ETF's Y/Y performance. What we see is that bonds have suffered since 2016 when growth started to bottom along with deflation fears.
That said, we see that even if TLT stays at current levels we are going to stay at a -4% Y/Y performance over the next few months. This would mean that there is still downside if the ISM prices index goes up further. And it is likely to go up further given the strength of the first three graphs of this article.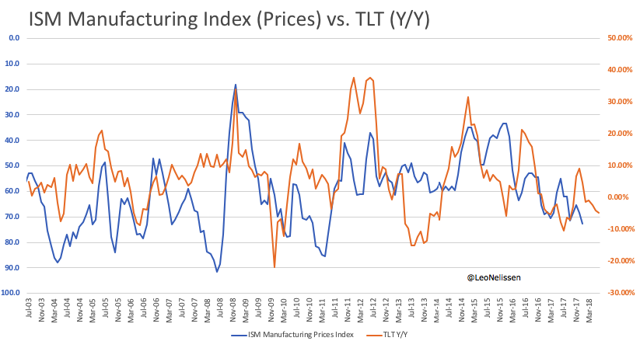 In other words, it is still extremely likely to see higher bond yields, and we are far from the perfect bull case: an ISM prices index below 50 as you can see below.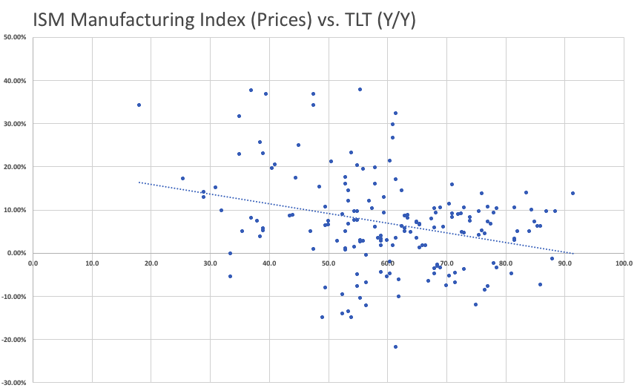 If prices start to fall it is an absolute no-brainer to buy TLT and government bonds in general. However, we are in a situation where we are not only at high expected prices, we are even seeing further upside momentum.
When Does It End?
It ends when economic growth starts slowing. So far, economic growth has not only benefitted companies top line growth, it has also pushed commodities up in epic rally like the two you see below. Both copper (blue line) and oil (red/black line) have done extremely well during the summer of 2017 when oil joined the global commodity upswing supported by a weaker USD. And it works for other commodities too. Just look at lumber, nickel or other cyclical commodities.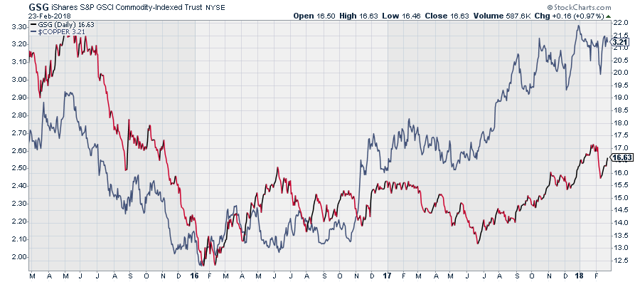 In other words, you want to go long TLT when economic growth starts slowing, supported by a strengthening USD. This would then ease pricing pressure on turn buying stocks are historically high valuations at a high risk. In such a situation, I would go overweight TLT as fast as possible.
Takeaway
Inflation is going strong and is expected to rise even further. TLT has been very weak in 2018 so far and I expect it to retest the 110-115 area. At that point we could see new support or a massive breakdown. Personally I believe that TLT is going much lower even though it has to go lower in order to confirm the current macro trend of rising prices and accelerating economic growth.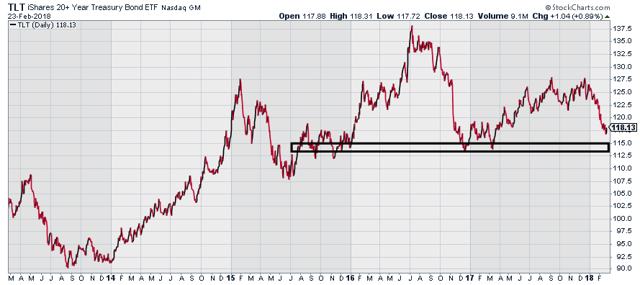 So my advice to traders is to stay away from bonds for now. Wait for them to fall further to buy them once this macro case turns from growth acceleration to growth slowing. I will continue to update this trend not only because I hope to get a good entry but also because it is a massive part of the current economic trend.
Stay tuned!