Entergy Corporation
Before buying bonds of any company, we must be sure that the mother company is sound. I firstly look at the basic facts of the issuer. If it is a small company in a poorly performing sector, I will look long and hard at its finances. For large, defensive stocks I don't see the need. Entergy definitely falls into the latter category.
Entergy has a $13bn market cap and a PE of 10.29. It is based in New Orleans, Louisiana and provides retail electricity to approximately 2.7 million customers across Arkansas, Louisiana, Mississippi and Texas. It operates 10 nuclear power plants and is the second largest nuclear generator in the U.S.
Some more facts about the company can be seen below: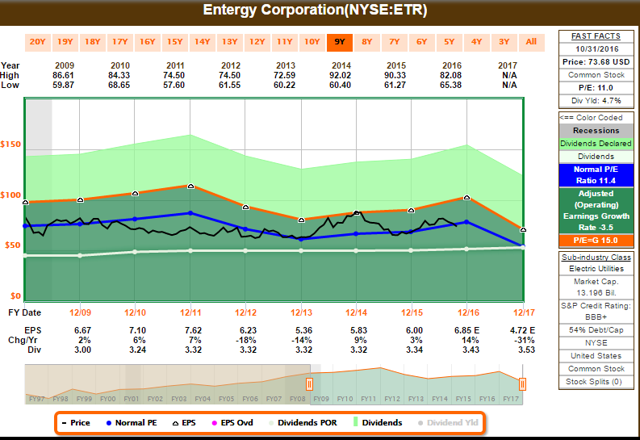 Source: F.A.S.T. Graphs
The dividend has been steady in the $3-3.43 range since 2009. This gives a current dividend yield of 4.7%.
Price has been relatively steady and is trading in a large range.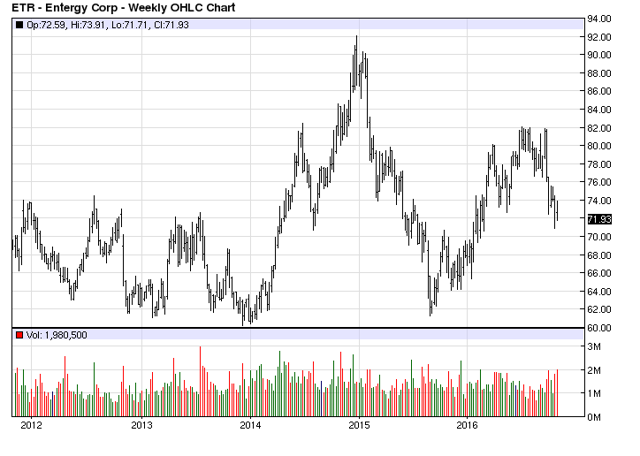 Source: Barchart
This price action shouldn't concern fixed income holders in Entergy too much. But it does illustrate why buying the common stock for the 4.7% dividend can lead to difficulties; buyers at the September-highs are 12% down in just over a month.
Entergy is a nice, steady defensive stock. You may want to look a bit deeper into its financials, and every investor should do as much research as they see fit. I am confident it can make its payments on the new bonds and that is enough for me.
This Weeks Best High Yielding Bond Reviews

The Bonds
The basic details of the bonds are provided by Quantumonline:

The yield is nothing to get excited about, but the market will give you no gifts in such a safe security. The rating of A shows just how safe the bonds are, and you must sacrifice some yield for this. Also note the bonds do not qualify for the 15% tax rate.
ETR dividends last year were $3.4 per share or $603 million, which covers the EAI bond issue of $408 million and its annual interest of $19.9 million many times over. We would need to see some large cuts in common dividends to be concerned that bond payments may be missed. This looks unlikely considering the last cut was back in 1998.
It appears the bonds were issued to cover the redemption of EAA, EGXKP and EGYJE in September. This is a simple case of swapping higher yielding debt for new debt with a lower yield. It's a sign of good management and not at all a cause for concern.
The call date is 2021 but it should be noted the yield is at the lower-end of the historical comparisons. Will there be lower yields in five years' time to make it worth calling? There are Entergy Arkansas 4.56% notes left over from 1965 as an example of what happens when yields rise and leave your low-yielding notes behind. A maturity date of 2066 at least limits your holding period for 50 years, but there is the potential for much lower prices in the meantime due to interest rate risk. Low yielders such as EAI will be hit first in a rising rate environment.
Distressed Debt Options

The appeal of the notes is obviously safety, but another plus is you can pick them up at $24.46, which boosts the current yield to around 5% (stripped price).
A comparison with other A-rated notes shows this one to be fairly priced and even a little undervalued. For example, there is a bond from ETR with 4.95% coupon that matures in 2044 and has a bid at 102.694 and a yield to maturity at the bid of 4.77%:

The big difference between the two bonds is that EAI is easy to trade and has a slightly better yield.
Conclusions
Sometimes safe and boring is a plus. There is probably a place in everyone's portfolio for a bond like this.
Buying EAI under par gives a current yield of 5% and a good night's sleep.